Jasmijn is a 19-year-old singer from the Netherlands who opens a new world of music, which she creates herself from start to finish. Synthesizers, bass and drums are used as a strong base for her melodic vocals, making her unique sound.

Jasmijn gives her own twist with a brand-new perspective to contemporary popmusic. While writing her songs she thinks the most important things are innovation, originality and being able to experiment. But this doesn't go without her catchy lines, which are mainly about her own sense against that of the world.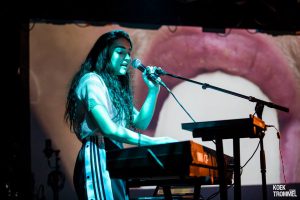 If I'll never come back home


tell them to be careful with their future!
"I understand you don't feel 'time'. But fire is breathing space It's blowing to the end of the universe. Can anything be changed?





I think I'm dreaming in their language. The cosmocreations taught me how to believe. They taught me how to fly around the atmosphere. I travelled through time. And now I'm touching the earth again. As I touched the stars, I'm trying to keep in touch with you. Can you read what's written in the sky?"




Old Man – Jasmijn
"I usually don't do covers, but this song is an exception. This remake of Neil Young's 'Old Man' is dedicated to a Scottish man I met in Berlin. He told me wonderful stories and I will never forget him.





I went to Berlin for two weeks and I saw him at a random grocery store. He was a really old man, like 90 years old, so I helped him pack his groceries. This man was very greatful to me and for some reason I kept thinking about him. He seemed very interesting and I just wanted to have a conversation with this guy. I even spoke with my friends about meeting him but I thought I would never meet such a unique person in a city like Berlin again. Guess what, a few days later I bumped into him at the rail station. I invited him to have a drink with me at a bar and we talked for like three hours! This special moment will stay with me forever.





I wanted to write a song for this man, but Neil Young already did. Altough I'm not a person who likes to cover songs, I couldn't let this song slip through my fingers.





There's only one problem: I'd love to share this song with him, but I can't find him anywhere. I'm not even sure I heard his name right cause of his accent. But I think his name was Edwin. He has a wife and kids, so I thought I might find one of his kids online. 



So I'm calling out to everyone, especially in Berlin or Scotland, to help me find him. You can share this video or just tell your family and friends about it. Who knows, maybe he and I will meet again."